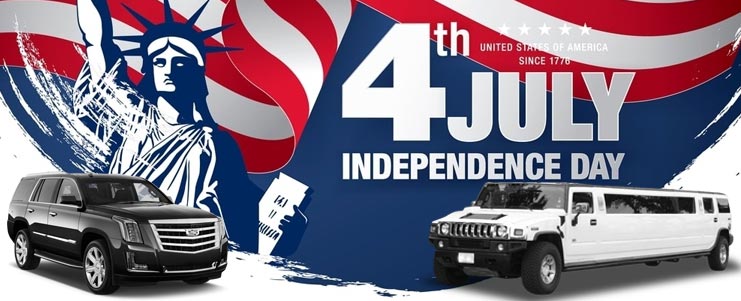 "Then join hand in hand, brave Americans all! By uniting we stand, by dividing we fall."-John Dickinson
Independence Day is just around the corner and you must be looking for some brainstorming ideas beyond firework displays, decorations, and BBQ/Cookout. Sacramento & Bay Area is one of the suitable places to light up your Independence Day with some distinguished yet meaningful celebrations. Explore the cultural and historical sights and landmarks sitting behind the best Independence Day Limo Service Sacramento & Bay Area arranged by Empire Limousine. Every year, Sacramento hosts colorful events and offers plenty of Independence Day Things-to-do Sacramento & Bay which are driven by patriotism. This Independence Day, allow Empire Limousine to accompany you through the beauty of Sacramento & Bay Areas that will undoubtedly make your Independence Day fun, wild, and memorable.
Empire Limousine is committed to deliver the highest degree of distinction, class, safety, and integrity. We, at Empire Limousine, specialize in maintaining a fleet that features the latest models of Stretch Limousines, Black Sedans, Executive SUVs, Vans, Buses, and shuttle buses equipped with plush interiors and amenities. Our experienced staff and chauffeurs take a genuine interest in meeting customers' tastes and preferences. These are put together to perfectly build-up Independence Day worth remembering. Hire Empire Limousine that arranges the best vehicle fit for your needs and a service that you can trust.
This July 4th, stuff up your sleeve with the following meaningful ways to be patriotic:
Events
Sacramento organizes year-round events that are suitable for every mood, group size or travel style. Independence Day marks the grandeur events with splendid parades, cruises, and enthralling fireworks. Each year, Sacramento hosts the best-curated events which include live music, kickass parties, and pub crawls to celebrate the spirit of freedom. One can explore Fireworks from the Central City, Old Sacramento, Fourth on the Field, and at Cal Expo.
Allow Empire Limousine to offer an extensive fleet of Stretch Limousines, Party Bus Service, and Exotic Car Rentals Sacramento loaded with top-notch entertainment gadgets. You can count on our experienced customer staff and chauffeurs to assist in planning your line of travel, multiple pickups, drop-offs, and special requests. These leave you to enjoy added time with friends and colleagues.
Sights and landmarks
Wondering what to see in Sacramento & Bay Area? Sacramento stands tall surrounded by majestic historic sites, educational sites, points of interests & landmarks, architectural buildings, arenas & stadiums, Churches & Cathedrals, neighborhoods, bridges, cemeteries, civic centers, and historic walking areas. Discover the beauty of Sacramento at Cathedral of the Blessed Sacrament, Leland Stanford Mansion State Historic Park, Sutter's Fort State Historic Park, Capitol Park, Tower Bridge, Old City Cemetery, Golden 1 Center, and River City Saloon.
With Empire Limousine, all you can expect 24/7 customer support before and after the event while you are in safe hands with our licensed chauffeurs. Hire Sacramento Ground Transportation Service to take you around town and nearby attractions where each client is treated like royalty.
Museums
Museums are created in the public interest which help in fostering a deeper understanding of the cultural and natural heritage. Hence, visiting a museum is one of the dozen meaningful ways to celebrate Independence Day. Sacramento houses appealing art galleries, history museums, art museums, specialty museums, and science museums. Some of the best museums which are best for curious minds are Crocker Art Museum, California State Railroad Museum, California Automobile Museum, Sacramento History Museum, Old Sacramento, Old Sacramento Schoolhouse Museum, California State Indian Museum, California Museum, and Well Fargo Museum. These museums exhibit tangible as well as intangible evidence of history.
Add sophistication and elegance with Empire Limousine that arranges a diverse fleet of Limousines, Party Bus Service, and Exotic Car Rentals with many styles and sizes to choose from. Choose one of our vehicles to turn your travel into a party on the road.
Culinary Adventure
Independence Day signals the beginning of the grilling season which is actually an old Southern tradition. However, a culinary adventure will help to savor both traditional and cosmopolitan cuisine. Embark on a culinary adventure from Local Roots Food Tours, Sac Brew Bike, Off the Chain Bike Bus Tours, SacTown Bites- Food Tour Adventures, The Underground Tasting Room, Sac Tour Company, Destination Drivers, Revolution Winery and Kitchen, and Sacramento River Cruise.
Experience the mythical journey with the best sections of exotic car rentals arranged by Empire Limousine. Our exotic car rentals include the most sought-after Lamborghini Gallardo, Bentley Continental GT, Ferrari F-430, and Range Rover Stretch Supercharged along with advanced features.
Concerts & Shows
Gigs and concerts are absolutely wonderful getaways to escape the hustle and bustle of city life. Sacramento has hidden gems in the form of theatres, comedy clubs, performances, ballets, concerts, and Dinner Theatres. There are concerts in Sacramento that you cannot afford to miss like California Musical Theatre, The B Street Theatre, Sacramento Memorial Auditorium, Torch Club, Sacramento Theatre Company, Chautauqua Playhouse, Laughs Unlimited, Punchline Sacramento, Sacramento Comedy Spot, and Ace of Spades.
Whether you're gearing up for an Independence Day or cruising to a big concert, there's no better way to make your arrival on-time and in style than luxurious Limousines and exotic car rentals arranged by Empire Limousine. You can book our limousine service for special occasions online or you can reach our 24/7 customer reps for the availability of vehicles, info, and supersaver exclusive package deals that allow you to save the maximum. So, whenever you're looking for the best Limousine, then look no further than Empire Limousine.