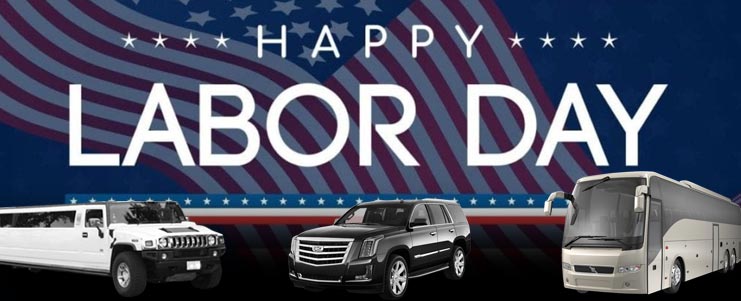 "The Labor Movement was the principal force that transformed misery and despair into hope and progress."- Martin Luther King Jr.
Labor Day holds tremendous ground in the list of federal holidays, since it reminds the social and economic achievements of American workers. It also commemorates the contributions of the American workforce that has made to the strength as well as the prosperity of the country. The day is closely associated with parades, galvanizing firework displays, barbecues, picnics, and other public gatherings. However, one can plan a Labor Day Weekend Gateway to Sacramento & Bay Area which offers a wide range of exciting and historic attractions. Discover the cultural and historical sights and landmarks sitting behind the best Labor Day Limo Service Sacramento & Bay Area arranged by Empire Limousine. Explore evolving contemporary culture and Labor Day Things-to-do Sacramento & Bay Area in order to make Labor Day Weekend fun, wild, and, memorable.
Empire Limousine is committed to deliver the highest degree of distinction, class, safety, and integrity. We, at Empire Limousine, specialize in maintaining a fleet that features the latest models of Stretch Limousines, Black Sedans, Executive SUVs, Vans, Buses, and Shuttle Buses equipped with plush interiors and amenities. Our experienced staff and chauffeurs take a genuine interest in meeting customers' tastes and preferences. These are put together to perfectly build up Labor Day worth remembering. Hire Empire Limousine that arranges for you the best Limousine fit for your needs and a service that you can trust.
This year, light up your Labor Day with meaningful celebrations in Sacramento & Bay Area.
Culinary Adventure
Food is an incredible vehicle for discovering true Sacramento. Right from exploring the unique culinary scene to fine dining experiences, Sacramento Culinary Tradition promises authenticity, scrumptious food, and fun in the form of distinguished breweries, wineries & Vineyards, food tours, wine tours & tastings, beer tastings & tours, farmers markets, cooking classes, distilleries, and wine bars. Discover the diverse culture of California at Sac Brew Bike, Off the Chain Bike Bus Tour, Sac Tour Company, SacTown Bites-Food Tour Adventures, The Underground Tasting Room, Track 7, Revolution Winery and Kitchen, Destination Drivers, and much more.
Allow Empire Limousine to arrange for you an extensive fleet of Stretch Limousines, Black Sedans, Executive SUVs, Vans, Buses, and shuttle buses loaded with top-notch entertainment gadgets. You can count on our 24/7 customer staff and chauffeurs to assist in planning your line of travel, multiple pickups, drop-offs, and special requests. These leave you to enjoy Labor Day Weekend with friends and colleagues.
Outdoor Activities
Outdoor activities sound like a bolt from the blue. However, labor Day is the last opportunity to soak up the last days of summer. Sacramento offers wonderful ideas and activities that you can carry to have a phenomenal Labor Day Weekend. Check out sublime golf courses, boat tours, equipment hire, jogging paths & tracks, bike tours, fishing charters & tours, hiking trails, river rafting & tubing, adrenaline& extreme tours, horseback riding tours, and horse-drawn carriage tour. Get the most popular thrilling experiences in Sacramento & Bay Area William Land Park, McKinley Park, American River Bicycle Trail, Sacramento Zoo, WET River Trips, Hornblower Events & Cruises, Sac Tour Company, Haggin Oaks Golf Complex, Loch Leven Lakes Trail, and Teal Bend Golf Club.
Hire Empire Limousine to take you around town and nearby attractions where each client is treated like royalty.
Sights & Landmarks
Experience Sacramento's dramatic skyline, appealing educational sites, ravishing points of interest & landmarks, irresistible architectural buildings, divine Sacred & Religious Sites, and Churches & Cathedrals as pretty as a picture. Do not forget to visit Cathedral of the Blessed Sacrament, Leland Stanford Mansion State Historic Park, Capitol Park, Sutter's Fort State Historic Park, Sutter Health Park, Tower Bridge, Old City Cemetery, Golden 1 Center, California State University, and River Walk Park.
Are you wondering to entertain your out-of-town guests? Hire Empire Limousine that arranges a complete fleet of Mercedes Coaches, Mini-Coaches, Buses, Vans, and Shuttle Buses that can accommodate any group size from 6 to 30 passengers. Make your Labor Day fun, wild, and memorable with Empire Limousine that arranges the best group transportation service available at surprisingly affordable rates.
Museums
Museums are delicacies for the eyes. These museums are undoubtedly hubs of innovation and equally suitable for curiosity mind-set. Connect to the ideas and cultures with intriguing art galleries, history museums, art museums, specialty museums, and science museums. Find hidden gems in the form of California State Railroad Museum, California State Capitol Museum, Crocker Art Museum, California Automobile Museum, Sacramento History Museums, Old Sacramento Schoolhouse Museum, Governor's Museum, Wells Fargo Museum, and much more.
Add sophistication and elegance with the best selections of exotic car rentals that offers a mythical journey from beginning to end. Our exotic car rentals include the most sought-after Bentley Continental GT, Ferrari F-430, Lamborghini Gallardo, and Range Rover Stretch Supercharged along with advanced features.
Concerts & Shows
Gigs, concerts, & shows are a wonderful way to embark on a Labor Day Weekend Gateway. Check-out great year-round theatres, comedy clubs, performances, ballets, concerts, and dinner theatres. Some of the great concerts that deserve your attention are California Musical Theater, The B Street Theater, Sacramento Memorial Auditorium, Torch Club, Sacramento Theater Company, Laughs Unlimited, Chautauqua Playhouse, Punchline Sacramento, Sacramento Comedy Spot, and Ace of Spades.
Whether you're gearing up for a culinary adventure of cruising to a big concert, there's no better way to make your arrival on-time and in style than luxurious limousines and exotic car rentals arranged by Empire Limousine. You can book our limousine service for special occasions online or you can reach our 24/7 customer reps for the availability of vehicles, info, and supersaver exclusive package deals that allow you to save the maximum.