You've seen the red-brick pavement and lovingly tended flowerbed in a thousand photographs. The eight switchbacks of Lombard Street's 900 block which the tourist board has declared as "the world's most crooked street" is an East-West Street in San Francisco that gives your heart rate a healthy boost. The varying gradient is the major feature that captivates the attention and is a great stop to add in your itinerary.
Tourists flock to witness vehicles drive has a speed limit of just five miles per hour and eight hairpin turns is one of the most unique vertically endowed roads. Surrounded by beautiful Victorian mansions, the hilly street was created with sharp curves with treacherous slop. The mythical landscaping gives fascinating, natural quality views that seem far too model to be real. For an accurate idea of how steep the street is, go to Filbert Street and peer down over the ridge to make your visit worthy.

History
The scenic switchback adds aesthetic appeal has already fascinated several tourists since it's creation in 1922.Prior to 1922, the street was straight and paved with cobblestone. After 1922, it was ascertained that the 27% of the hill was too steep for most of the vehicles as well as pedestrians. The switchbacks were particularly designed to increase the ability to travel safely.
Another Big secret? The tourist has dubbed it the world's most crooked street is factually incorrect. The honor belongs to Vermount Street in Potrero Street but Lombard is visually stronger with well-manicured flowers and trees.
Things to do in Lombard Street
Once you have visited Lombard Street, enjoy the slow yet challenging drive down the street or hiking up to the top. Get beguiling photo ops that feature captivating mansions, enthralling landscaped gardens and flowerbeds that fame Lombard from both the sides. Also explore the extensive view of the water surrounded the city, Coit Tower, and the Bay Bridge from top of the hill.
Top Attractions in Lombard Street that make your visit memorable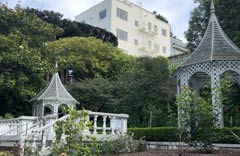 Fay Park
2366 Leavenworth St, San Francisco
This tiny park located on the northeast slope of Russian Hill surrounded by ornamental planting beds exhilarates the tourists through its lush greenery. The garden's three terraces connected by stairs lined with stone balustrades and boxwood wedges make it one of the popular spots for the wedding as well.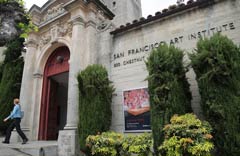 San Francisco Art Institute
800 Chestnut St, San Francisco San Francisco
The place is entirely dedicated to the intrinsic value of art founded in the year 1871 is one of the oldest and most prestigious schools of higher education as far as Contemporary Art is concerned. The place fosters creativity in an experimental and interdisciplinary environment and nurtures artists who will become the creative leaders of their generations.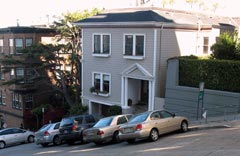 Russian Hill
In case you are a brave blister, then this place offers historic neighbourhood with astounding views, unconventional shops, memorable restaurants, and signature San Franciscan attractions to rest between the climbs. Try Polk Street Shopping, Saint Frank Coffee, and Cheese plus to browse a diverse collection of shops, boutiques, and chic cafes.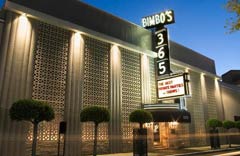 Bimbo's 365 Clubs
Located at 1025 Columbus Avenue in San Francisco, is an entertainment Club which specializes in Live rock and jazz shows. Established in the year 1931, Bimbo's 365 Club is the most historic nightclub that has beautifully retained the original Art-Deco design. The place is recognized for the state-of-the-art infrastructure, sound & lighting systems, a concert stage and terraced dining platforms that somehow multiply your spirit of adventure.
Best dine-out at Lombard Street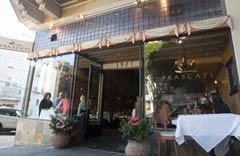 Frascati
1901 Hyde St, San Francisco
A perfect balance of a truly European aura and San Francisco neighbourhood bistro that serves cuisine from the Mediterranean coast with strong Californian influence is located in San Francisco's most desirable neighbourhood. This tri-level restaurant is recognized for the indistinguishable ambience that makes the visit a lively spirit.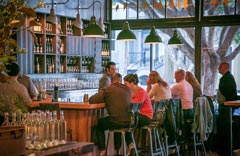 Stones Throw
1896, Hyde Street, San Francisco
A California/ American restaurant and bar which brings the underlying hospitality with seasonal New American cuisine. The place offers an extensive beer list and rare wines that augment the spirit of the feat just a sip away.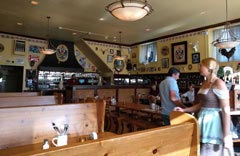 Leopold's SF
2400 Polk Street, San Francisco
A Bavarian-style bar/restaurant where you can expect German and Austrian foods that deliver both in taste and portions. You will find Waiters and waitresses wearing Oktoberfest outfits serving two-litre boot draught beer that makes you fresh after a backbreaking day.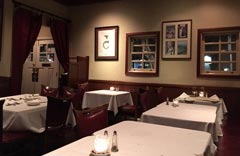 Albona Ristorante Istriano
545 Francisco St, San Francisco
The first and only AlbonaRistoranteIstriano located on the west coast offers distinctive foods that are rooted back in the European town of Albona, Istria perched on a high hill. The place that gives culinary infusions from the Austrians, Slavs, Hungarians, French, Greeks, Jews and Turks which can be easily reflected on their unusual dishes and recipes from those regions.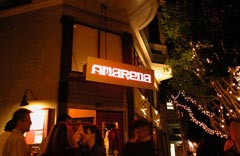 Amarena
2162 Larkin St, San Francisco
If you are looking for traditional Italian homemade pasta or hearty veal dishes, then Amarena is one of the popular destinations worth to visit. The place is sought-after destinations for an elegant menu, extensive wine list, and unique ambience with noticeable opera that make each and every customer feel special.
General Visitor Info
Pay respect and avoid making noise at night during your visit at Lombard Street which is located a few blocks up the hill from Ghirardelli Square. Allow yourself to watch people, click some snaps and in case you are intending to ride a bike, make sure to ride at the lowest speed. Enjoy the floral fragrances during spring and summer. Morning is the best time to visit Lombard.
You can catch Powell-Hyde cable car that stops at the Lombard Street. You can walk from Ghirardelli Square to Hyde which is although the steepest way. You can also catch the street walking west from North Beach.
Get privileged Rides
Get a complete fleet of late-model Stretch Limousines, Sedans, SUVs, and Party Buses with Global Tours. We offer the top quality vehicles, indistinguishable customer support, courteous chauffeurs as well as custom interiors that emanate your class. Global tours ensures to offer options and services that can be amended to fit all your needs.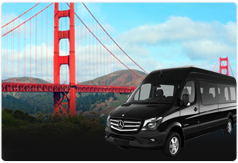 From $99
From $99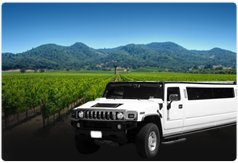 From $99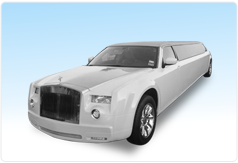 From $99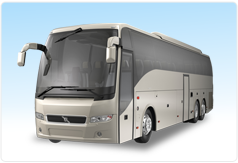 From $99
Hours
Add business hours
Need a Limo or Bus
1


Check Rates

2


Choose Vehicle

3


Confirm & Reserve

(without payment)
HOW CAN WE SERVE YOU?

Airport Transportation
or

All Other Transportation
Check Rates, Availablity, & Book Luxury Vehicles Worldwide.